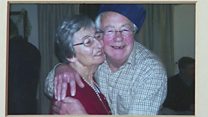 Video
Man donates £1m to charity after his wife's death
A man has donated £1m to the Alzheimer's Society following the death of his wife.
Malcolm Joyce, 81, from Tynemouth, decided to make the donation after looking after his wife Jean who was diagnosed with Alzheimer's disease in 2008 and died in 2015.
The donation from the retired dentist is the largest received from a single donor in its 37-year history, the charity says.