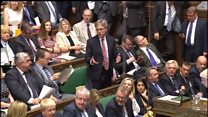 Video
English Conservative MP asks NIO minister about a 'cross of St Patrick' flag
The government has been asked what consideration has been given to adopting the cross of Saint Patrick as a unity flag for all communities representing Northern Ireland.
Conservative MP Henry Smith asked the question in the House of Commons.
The new Northern Ireland Office junior minister Kris Hopkins said the issue of flags in NI was "a sensitive and complex one".