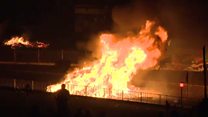 Video
'Pipe bomb' thrown at police patrol at controversial Londonderry bonfire
A bomb was thrown at a police patrol near the scene of a controversial nationalist bonfire overnight in Londonderry, police said.
A number of homes on Charlotte Street were evacuated during a security alert that ended at 03:13 BST.
The "viable device" was thrown at the Lecky Road flyover, police said.