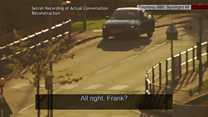 Video
Nama: Frank Cushnahan recorded accepting payment
Businessman Frank Cushnahan, who has been at the centre of the £1bn Nama deal controversy, has been recorded accepting a £40,000 cash payment from a Nama borrower.
The recording, shown on BBC Spotlight NI, was made in 2012 at a time when Mr Cushnahan was still working as an adviser to Nama.
The payment was made by the County Down property developer John Miskelly during a meeting in a hospital car park.
Mr Miskelly said "payments made by me to any persons have been lawful".
Mr Cushnahan has denied any wrongdoing and told BBC Spotlight he would not be providing any further responses because of the ongoing National Crime Agency (NCA) investigation.
You can watch BBC Spotlight NI on the BBC iPlayer here.