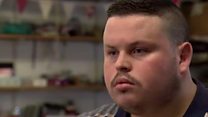 Video
There are more than 11,000 homeless people in Northern Ireland, how do they cope?
More than 11,000 families and individuals thought to be homeless in Northern Ireland, but what is the reality for those who sleep on the streets on in hostels?
One homeless man, Seamus, tells BBC News NI that this can lead to serious mental health issues and tragedy.