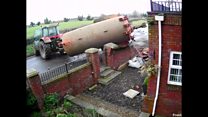 Video
CCTV captures moment slurry tank crashes through wall of house
CCTV shows the dramatic moment a slurry tank crashes through the wall of a house in County Antrim.
It missed the house itself, in Glenavy, by less than a metre.
The homeowner, who was in the property at the time, said he was just glad no-one was hurt.
The Belfast Road was closed for a time while the car, tractor and slurry tank involved in the crash were removed.
Oil also had to be cleaned up - but the road has reopened.
The homeowner said he now wants a reinforced wall to protect his family home.