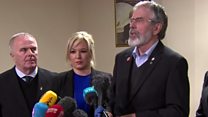 Video
Martin McGuinness: Sinn Féin tributes to 'passionate Republican'
Sinn Féin President Gerry Adams and the party's northern leader Michelle O'Neill have paid tribute to Martin McGuinness, who has died at the aged of 66.
It is understood he had been suffering from a rare heart condition. His funeral will be in Derry on Thursday.
The former IRA leader turned peacemaker worked at the heart of the power-sharing government following the 1998 Good Friday Agreement.
Go to next video: A look back at the life of Martin McGuinness