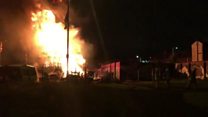 Video
Belfast car park bonfire set alight
A bonfire at the centre of a dispute between Belfast City Council and its makers has been set alight.
The site is at a public car park, just off the Upper Newtownards Road, in Belfast.
The police said officers had attended a bonfire in Ravenscroft Street in east Belfast which had been set alight at about 00:40 BST on Wednesday.
No property was damaged as a result of the fire.