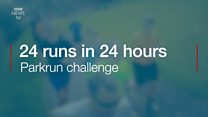 Video
Alan Ladd runs 24 Northern Ireland Parkruns in 24 hours
Alan Ladd has completed all of Northern Ireland's 24 Parkrun courses in 24 hours.
He took the challenge - the equivalent of four marathons - with friends from the Mallusk Harriers running club.
It was all done in aid of a local charity in honour of his mum, Catherine - a keen runner who died of cancer in 2014.
If you want to find out how to get into running, have a look at the Get Inspired guide.