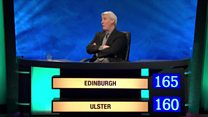 Video
Ulster University's first time unlucky on University Challenge
If you tuned into University Challenge on Monday, you'll know that a team from Ulster University lost narrowly to Edinburgh University.
It's the very first time the university been on the programme and with an average age of 50, its team were some of the oldest competitors ever to take part.
But with one of the highest losing scores, they are hoping for a second chance in the play-off rounds.