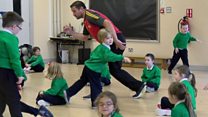 Video
School PE scheme 'bypassed' by funding
The primary school sports curriculum scheme is to finish at the end of October with a loss of more than 50 jobs.
Despite the Department of Education receiving an additional £10m of extra money from the Department of Finance, the money will not be going directly to schools.
The school principal in St Ronan's Primary School in Newry said he was disappointed the department is choosing not to save the scheme.
Read more here: