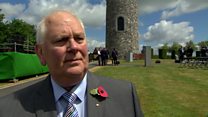 Video
Late ex-UDA leader Glen Barr reflects on peace project impact
The funeral takes place on Friday of Glen Barr, the former UDA commander who died on Tuesday aged 75.
Mr Barr became the loyalist paramilitary organisation's north west leader but in later years was involved in a range of community and reconciliation projects.
He, along with former Irish parliament member Paddy Harte, founded the Island of Peace Park at Messines in Belgium to honour Irish soldiers who fought and died in World War One.
In what proved to be one of this final media interviews, Mr Barr spoke to BBC News NI's Mervyn Jess at Messines during centenary commemorations earlier this year and reflected on the impact on reconciliation that the park has had.