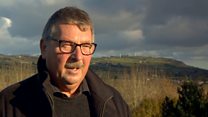 Video
Sammy Wilson warns Brexit talks may jeopardise DUP-Tory deal
A DUP MP has warned Tory ministers that his party's support for the Government could be jeopardised by the Brexit negotiations.
Sammy Wilson said any attempt to "placate Dublin and the EU" could mean a withdrawal of DUP support for the Government.
His comments came in response to a report in The Times newspaper about a possible Brexit deal.
It would involve devolving a package of powers from Westminster to Northern Ireland to enable customs convergence with the EU/ Irish Republic on areas like agriculture and energy.