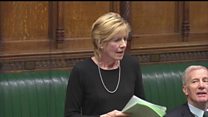 Video
NI MPs Hermon and Dodds in Commons Brexit clash
North Down Independent MP Sylvia Hermon has rejected criticism in the House of Commons from Nigel Dodds, the DUP deputy leader and MP for North Belfast.
Nigel Dodds said Lady Hermon was viewed as "being on the side of the Dublin government" over Brexit.
Lady Hermon objected to Mr Dodds' "chuntering", saying she was neither "in the pocket" of the Irish government, nor in contact with Dublin on the matter.