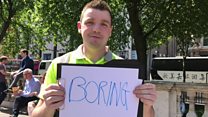 Video
General election 2017: Captivated by the campaign?
Brilliant or boring? Inspired or insipid?
How would you describe the election campaign so far?
This game of political musical chairs should all be getting quite feisty by now, so are you excited or exhausted by yet another election?
BBC News NI's Iain McDowell took to Belfast's Continental Market at lunchtime on Friday to find out your views on the polling news.