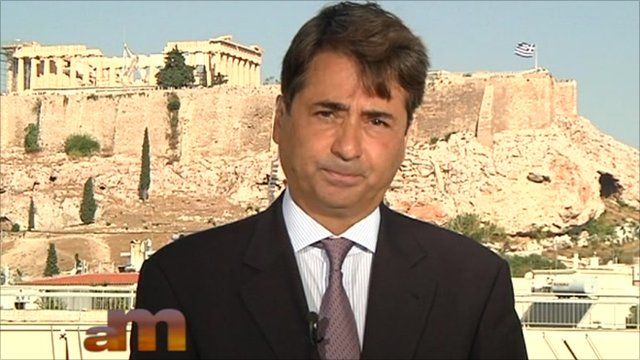 Video
Leaving the Euro would have 'catastrophic consequences'
The Greek Minister for International Economic Relations, Constantine Papadopoulos has told Andrew Marr that if Greece withdrew from the Euro it would take Greece "back to the 1960s or 70s" and have "catastrophic consequences".
Speaking on the programme he said devaluation would not lead them anywhere and would take them up "a dead end street".
He said that EU countries needed to keep "their side and the bargain" and continue to disperse the aid package in order to improve Greece's financial situation.
Mr Papadopoulos said the problem was not the cuts but the structural reforms which were "more difficult to implement and see results". He stressed that leaving the Euro would not ameliorate the situation.
You can watch the Andrew Marr Show in full on the BBC iPlayer