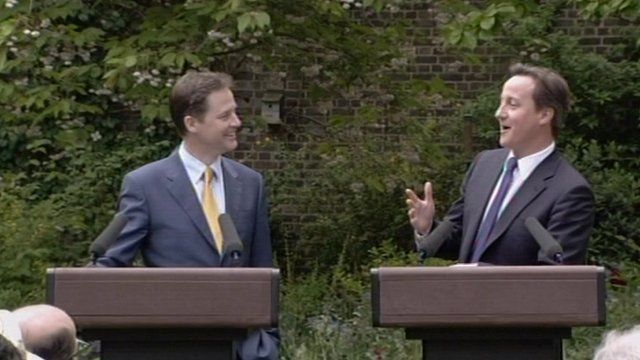 Video
Coalition highlights for David Cameron and Nick Clegg
The coalition is half-way between general elections, assuming the next one is held in May 2015 as planned.
David Cameron and Nick Clegg are preparing to make pledges on childcare costs, help towards care costs for the elderly and infrastructure investment as part of their mid-term review to be delivered later on Monday.
Giles Dilnot looked into the archive, and spoke to The Sun's Associate Political Editor David Wooding and Akash Paun from the Institute for Government on the road ahead for the Conservatives and Liberal Democrats.
MORE FROM THE DAILY POLITICS
More clips and news on our BBC website; 'like' us on Facebook page; watch the Sunday Interviews with Andrew Neil, follow us on Twitter or watch us on BBC iPlayer
Go to next video: Where could PM give EU announcement?