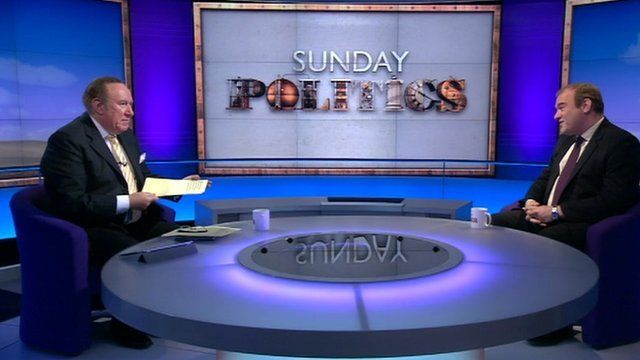 Video
Ed Davey on Clegg, Huhne, Eastleigh and boundaries
Nick Clegg was in "a strong position whatever happens" in the Eastleigh by-election, said Ed Davey.
The Energy and Climate Change Secretary denied the party had a "chequered history" when asked about the headlines around Chris Huhne, David Laws and Mark Oaten.
He also spoke to Andrew Neil about his party failing to support the boundary changes, claiming the "Conservatives have paid a price for their inability to stick to their word."
They later spoke about wind and nuclear power.
MORE FROM THE DAILY AND SUNDAY POLITICS
Watch more clips of films and interviews; 'like' us on our Facebook page; watch the Sunday Interviews with Andrew Neil, follow us on Twitter or watch programmes from the last seven days on BBC iPlayer
Go to next video: 'No secret plot to get Britain out of EU'