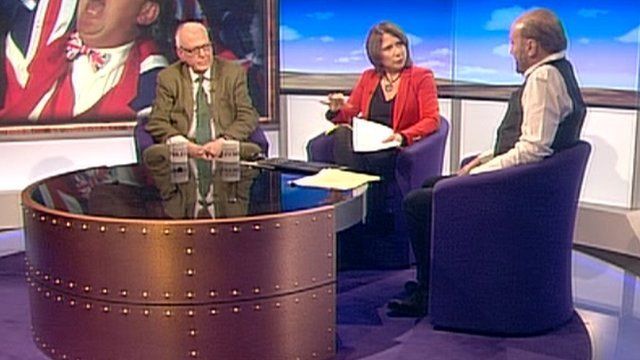 Video
Falklands referendum: George Galloway and Lord Hennessy
The UK should reach a deal with Argentina for shared sovereignty over the Falkland Islands and its waters as Britain was a "small almost-bankrupt" country thousands of miles away, said George Galloway.
The MP compared British policy being set by a few thousand islanders to a similar number of objectors being able to hold up the HS2 high speed rail project in the UK.
The historian and crossbench peer Lord Hennessy said tensions over the islands was higher now than since the 1982 invasion, but called on the Respect MP to show more respect to the islanders and their vote.
Falklands referendum: UK Foreign Office minister on result
MORE FROM THE DAILY AND SUNDAY POLITICS
Watch more clips of films and interviews; 'like' us on our Facebook page; watch the Sunday Interviews with Andrew Neil, follow us on Twitter or watch programmes from the last seven days on BBC iPlayer
Go to next video: MP: 'Bankrupt' UK can't defend Falklands