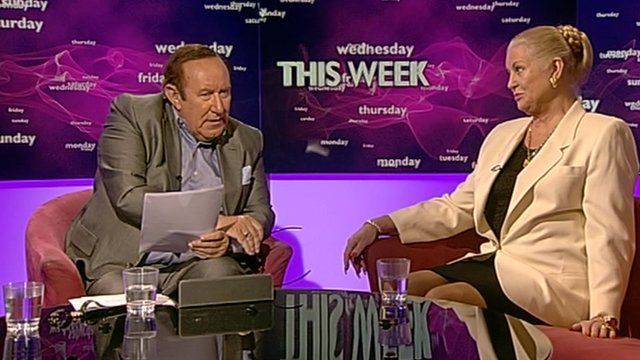 Video
Thatcher funeral protests: Kim Woodburn on respect
Protesters who took part in back-turning and "parading around a funeral" at the service for Lady Thatcher have been criticised by TV presenter Kim Woodburn, as she debated etiquette.
She reviewed the protests at the service, part-funded by the public purse - and the campaign to get a protest song into the charts - with Andrew Neil, Jacqui Smith and Michael Portillo on BBC1's This Week.
Ms Woodburn, presenter on Channel 4's How Clean is Your House programme, turned on those who took part in action, saying: "You don't take a protest to a funeral, you respect, you respect, you respect."
UK viewers have 12 months to watch the full programme on iPlayer
MORE FROM THIS WEEK
More clips and news on our BBC website; 'like' us on Facebook; 'follow' us on twitter or watch shows from the last few months on the BBC iPlayer
Go to next video: Scenes from Baroness Thatcher's funeral