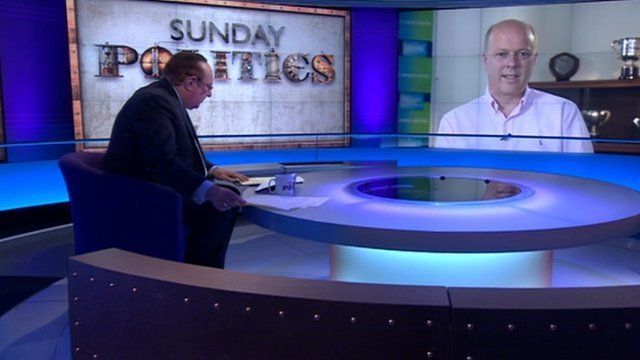 Video
Chris Grayling on UKIP election threat to Conservatives
Conservatives will not do a deal with UKIP ahead of the 2015 general election, Chris Grayling has said.
The justice secretary was asked about the threat to Tories from the eurosceptic party, and a BBC/Comres survey showing it was attracting disaffected Tories
He sad: "You don't do deals, you fight for your principles, you fight for what you believe is right."
Andrew Neil also asked him about Britain's future relationship with the European Court of Human Rights, and Mr Grayling said a future Tory government would "make wholesale changes to human rights laws".
MORE FROM THE DAILY & SUNDAY POLITICS
Watch more clips of films and interviews from 2013; Watch Sunday Interviews with Andrew Neil; Watch our soapbox films; Watch full programmes from the last seven days via BBC iPlayer; Social networks: 'like' us on Facebook page or 'follow' us on Twitter
Go to next video: The big issues for UKIP councillors