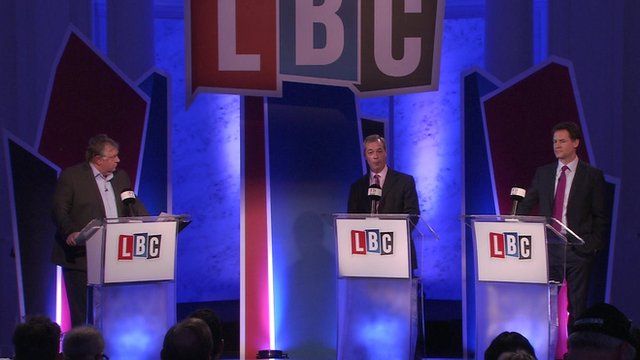 Video
Clegg v Farage: Human rights issue divides leaders
Liberal Democrat leader Nick Clegg has faced UKIP leader Nigel Farage in a debate about the EU - with human rights legislation, and its impact on the UK's criminal justice system, just one issue that the men had very different opinions on.
Mr Farage argued that human rights legislation prevented foreign criminals from being deported and that the UK did not need Brussels to tell it about the concepts of liberty and freedom.
But Mr Clegg said that the UK's place within the EU allowed it to collaborate with other nations in order to capture criminals who were trying to flee justice.
Video courtesy LBC/Global TV
Go to next video: Clegg v Farage: Opening statements