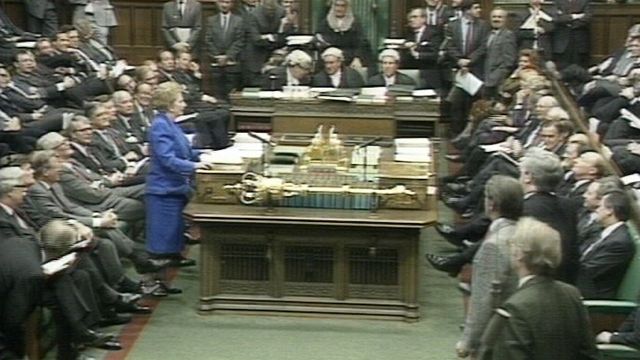 Video
Euro Moments: Thatcher fights back after criticism from Kinnock
This is part of a series of clips from the BBC archives on the subject of the UK and the EU - this clip taken from BBC News, was first broadcast on 30 October 1990.
Prime Minister Margaret Thatcher had demoted Sir Geoffrey Howe in the July 1989 reshuffle amid disagreements over Europe, sacking him as foreign secretary and making him deputy prime minister.
In Commons exchanges following the Rome summit, at which negotiations on the future of farm subsidies had collapsed, Labour leader Neil Kinnock sought to exploit divisions within the Conservative Party on the UK's relationship with the European Community.
He provoked a vigorous response from Mrs Thatcher, who vigorously defended her policies and her deputy.
But pro-European Sir Geoffrey, now Lord Howe, resigned his post shortly afterwards, prompting a chain of events that would lead to the end of Mrs Thatcher's time in office.
Go to next video: Euro Moments: UK joins Exchange Rate Mechanism