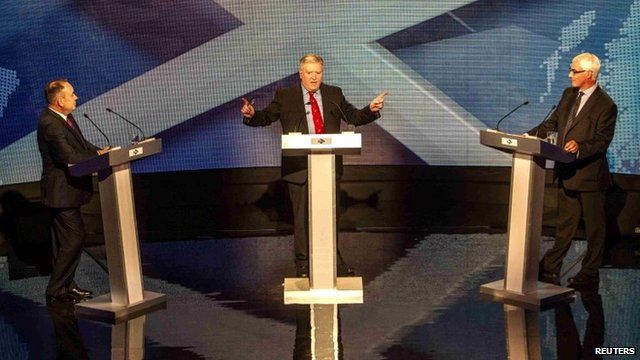 Video
Scottish independence: Reaction to Salmond and Darling TV debate
Voters in Scotland have seen the first televised debate between leaders of the rival campaigns in next month's referendum on Scottish independence.
The First Minister, Alex Salmond, went head to head with Alistair Darling from Better Together.
Mr Darling said Scotland would have "the best of both worlds" by rejecting the "risks" of independence.
However, Mr Salmond said Scots had everything to gain by voting yes.
Scotland Correspondent, Lorna Gordon reports on reaction to the debate.
The debate was first broadcast on the Scottish television network STV.
Go to next video: Salmond asks Darling question 21 times