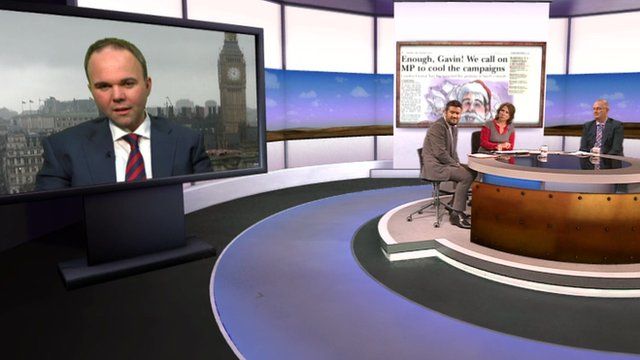 Video
Gavin Barwell and Croydon Advertiser on MP campaign
A local newspaper has launched a campaign to end the series of petitions by one of its MPs.
Croydon Advertiser editor Glenn Ebrey said his paper took a satirical and light-hearted approach to Tory Gavin Barwell's weekly habit of launching a new campaign.
The Croydon Central MP said he was "guilty as charged" to working hard to carry on his job, and although he was six months away from defending a marginal seat, he has been doing this since the last election.
The pair spoke to Jo Coburn on the Daily Politics, along with radio host Iain Dale who previously stood as a Tory election candidate, but saw saw his opponent increase a 483 majority to 10,600.
More: Follow @daily_politics on Twitter and like us on Facebook and watch a recent clip and watch full programmes on iPlayer
Go to next video: Tory gay marriage critics not 'old fogeys'