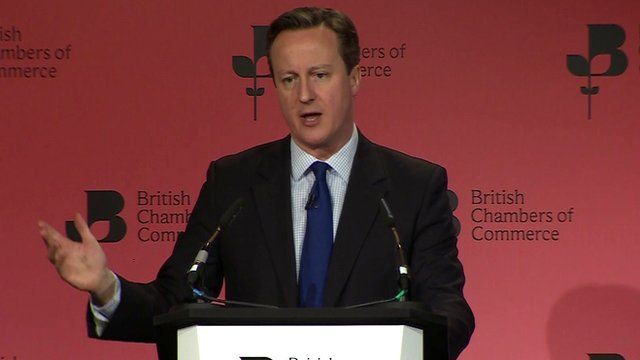 Video
Business backs EU referendum plan, says David Cameron
Prime Minister David Cameron has said business leaders were increasingly backing his plans for an EU referendum after a renegotiation of the UK's role within the EU.
British Chambers of Commerce (BCC) chief John Longworth has called for a vote in 2016, a year earlier than Mr Cameron has promised, to end uncertainty.
Labour's Ed Balls has warned a referendum would be "hugely destabilising" to business. But Mr Cameron said the BCC boss's call showed firms were getting behind him.
"Let's get stuck in there, let's hold a negotiation, let's deal with those things that are holding Britain back, and then let's have this put to the British public in an in/out referendum, '' he said in response to a question by the BBC's Nick Robinson.
Go to next video: UK should not 'flirt' with EU exit