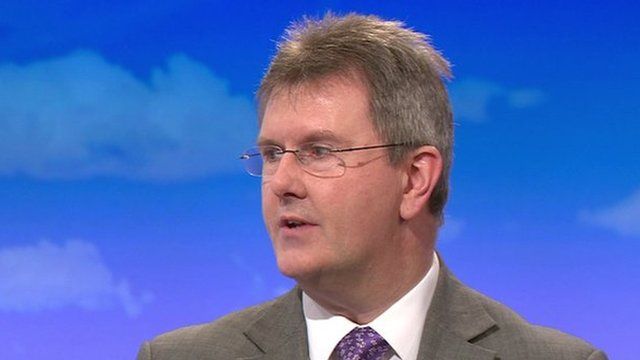 Video
Election 2015: DUP's Donaldson on hung parliament talks
The Democratic Unionist Party will "put our mat out very clearly before the election" and not take part in horse-trading after 7 May, said one of its MPs.
The DUP's Jeffrey Donaldson said "national issues will take prominence", and the party will decide this weekend at its spring conference where it stands on supporting larger parties.
But speaking to Jo Coburn on the Daily Politics, he would not say whether he backed the Conservatives or Labour.
The DUP is the fourth largest party in the current Parliament and could have a role in deciding which party leads a hung parliament, should none emerge with a majority after the election.
Speaking of a potential link up with his former Ulster Unionist Party (UUP), Mr Donaldson said "maybe that will happen one day".
More: Follow @daily_politics on Twitter and like us on Facebook and watch a recent clip and watch full programmes on iPlayer
maybe that will happen one day"
Go to next video: Can you recall these election moments?