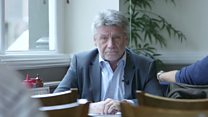 Video
Journalist Neil Wallis blames BBC for Whittingdale 'mud-slinging'
Former newspaper editor Neil Wallis blames the BBC for mud-slinging over the John Whittingdale story.
He reckoned the tabloid press would have covered the story about the cabinet member 20 years ago, but said the public asked for the Leveson Inquiry, and would have to live with the consequences.
In a personal film for This Week, he said: "It's been like Alice through the Looking Glass. The BBC for decades has set itself up as the vanguard of privacy, railing against these nasty intrusive tabloids - not any more."
Go to next video: Boxer Haye on fights: I love it!