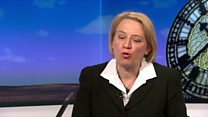 Video
Green Party leader Natalie Bennett on local elections
The Green Party leader has predicted her party will win its first seats on English councils, such as Sheffield, Liverpool, Oxford and Bristol next month.
Natalie Bennett, who leads the party in England and Wales, said people were tired of their councils and wanted a "new Green broom sweeping through these dusty corridors".
But in a Daily Politics interview with Jo Coburn, she declined to say whether she would seek re-election as leader when her term of office ends later this year, saying her focus was purely on the May elections and June's EU referendum.
Go to next video: Minister: 'I need to do more to sell' academies