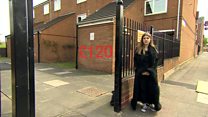 Video
Call to ban letting agency fees for those renting homes
Fears about the impact of a booming property market in parts of the UK are often in the headlines, as are the various initiatives to give people a foot up onto the housing ladder.
Debrief features editor Vicky Spratt says letting agency fees have cost her more than £2000 over the past nine years.
Her publication has started a petition to ban them in England, as has happened in Scotland. In this personal film for the Daily Politics, she said: "It's time to make renting fair."