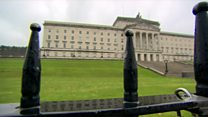 Video
Northern Ireland parties campaign for Assembly elections
The larger Northern Ireland parties discuss the upcoming elections for 108 seats in the Northern Ireland Assembly.
Daily Politics reporter Ellie Price spoke to the DUP, UUP, SDLP, Sinn Fein and the Alliance Party about how the Executive has been running, what the parties are offering, and if anything much will change after the votes are counted.
Go to next video: Shakespeare lessons for politics today?