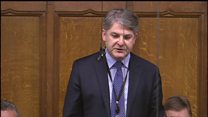 Video
PMQs: Cameron and Davies on UK money for Nigeria and Afghanistan
Tory MP Philip Davies said the UK should "stop pouring hundreds of millions of pounds of taxpayers' money" into Nigeria, Afghanistan and "other corrupt countries".
David Cameron gave a tongue-in-cheek thank you to the Eurosceptic MP for his diplomatic advice.
But, the prime minister said "problems in those countries came back to haunt us here" and said defence and aid budgets were "ways of keeping us safe and prosperous in a dangerous world" and also help the UK fulfil its moral responsibilities.
Go to next video: Speaker says Farron 'has a right to be heard'