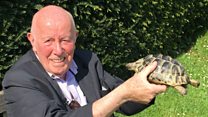 Video
Actor Richard Wilson on Whittingdale and BBC White Paper
Actor Richard Wilson warns BBC "should stick to what it's good at rather than trying to become the new ITV".
The actor put the case defending the broadcaster, on the day John Whittingdale announced a White Paper looking at the future of the licence fee and abolishing the BBC Trust.
In a personal film for This Week, he said: "Any culture secretary forced to admit he had no wish to "hobble the BBC" is not to be trusted, and I for one am prepared to march on the streets to defend it from his meddling."
Go to next video: Nightingale asked: What is a big bass banger?