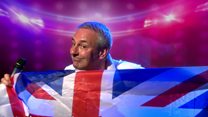 Video
Kevin Maguire reviews Westminster politics in Eurovision week
The Mirror's Kevin Maguire reviews Westminster politics in Eurovision Song Contest week in a film for This Week.
The Queen and prime minister were caught making unguarded comments, Boris Johnson sang his own European tune, Gordon Brown was back in the spotlight, and the referendum campaign lent itself to Waterloo and Making Your Mind Up gags.
Go to next video: Nightingale asked: What is a big bass banger?