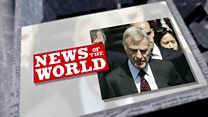 Video
Mosley on newspaper inunctions and celebrities' privacy
The privacy that those in the public eyes can expect is highlighted with claims such as phone hacking, John Whittingdale's private life, and the celebrity three-some case.
Ex-Formula One boss Max Mosley became the subject of pages of newspaper allegations over his private life in 2008, where he later won damages from the News of the World.
In this personal film - airing on Monday's Daily Politics, which he will then debate with studio guests - the campaigner who wants to to reform privacy laws, says the media's arguments for printing such details are "about as concrete as the papers they produce".
Go to next video: Mosley demands more transparency