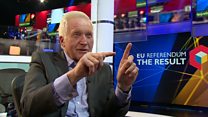 Video
EU referendum results night coverage and timings
Looking at the results timetable on Thursday night into Friday morning with Jeremy Vine, Professor John Curtice and David Dimbleby.
Daily Politics reporter Ellie Price looks at how the BBC will be covering the outcome after polls close at 22:00 BST, and hears there will be no overall result for several hours.
We are on twitter and Facebook, and you can look at previous clips or watch full programmes on iPlayer
Go to next video: Why won't there be a referendum exit poll?