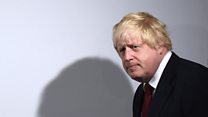 Video
Would Boris Johnson make a good PM?
Boris Johnson is the favourite to win the Conservative leadership and so become the next prime minister of the UK.
Sonia Purnell, author Just Boris: A Tale of Blond Ambition, and Andrew Gimson, friend and author of Boris: The Rise of Boris Johnson, debate his leadership qualities.