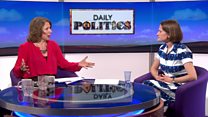 Video
The Times' Rachel Sylvester on Andrea Leadsom interview
Journalist Rachel Sylvester is asked about her interview with Conservative MP Andrea Leadsom during the latter's short-lived campaign to become the leader of the Conservative Party and prime minister. Some of Ms Leadsom's comments about her family background - and its contrast with Theresa May's - attracted controversy, and she withdrew her bid to be party leader within 48 hours.
Ms Sylvester, a reporter for The Times, told Daily Politics presenter Jo Coburn: "I just ask the questions, it was the answers that did the damage."
They looked at the leadership contest with religious commentator Giles Fraser, who backed the Leave side during the referendum campaign.