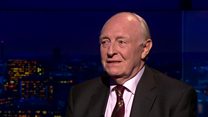 Video
Lord Kinnock on challenging Margaret Thatcher
Former Labour leader Lord Kinnock offers an insight into the challenge he had as leader of the opposition when Margaret Thatcher was prime minister, in an interview with BBC Parliament.
"I could never really tackle her in the way in which I was able to tackle John Major, a man of the same age and same kind of background.
"If I misjudged it with Margaret Thatcher and even managed to land a blow, the consequences would not be full credit", he said.
The full programme - Conversations - is available to view on BBC iPlayer.