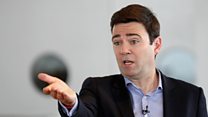 Video
Burnham says deselection talk fuels distrust
Labour's new Manchester mayoral candidate, Andy Burnham, says talk of deselecting Labour MPs fuels a climate of distrust.
The UK's biggest trade union, Unite, has called at its annual conference for Labour MPs to be reselected every five years.
Mr Burnham told the World At One's Martha Kearney such talk was unhelpful.