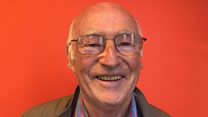 Video
Socialist leader Peter Taaffe wants Labour less in 'Stalinist mould of Watson'
The leader of the Socialist Party said Labour needed to be reconfigured to be less top down, bureaucratic and less "in the Stalinist mould of Tom Watson".
Peter Taaffe, a founder of Militant whose members were ejected from Labour in the 1980s, told the World at One's Martha Kearney the Socialist Party wanted "to be part of the process of regenerating" Labour, from inside the party.
Labour's deputy leader Tom Watson has warned of "proscribed organisations" attempting to join the party, in particular members of the Socialist Party.
Go to next video: 'All members' can vote for leader