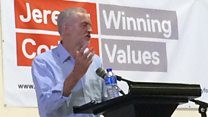 Video
What do Corbyn supporters make of the #traingate row?
Virgin trains have published their own CCTV footage which appears to show Jeremy Corbyn walking past available seats on the train after the Labour leader made a video sitting on the floor of what he described as a "ram-packed" Virgin service from London to Newcastle.
BBC Radio 4's World Tonight asked people attending a Jeremy Corbyn campaign meeting what they made of the row.
Go to next video: Corbyn angered by train row questions