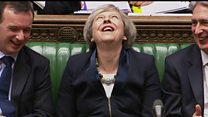 Video
Theresa May laughs off Surrey council tax deal question
Prime Minister Theresa May very visibly tried to laugh off Jeremy Corbyn's questions about a Surrey council tax deal at Prime Minister's Questions.
It comes after a leaked recording of council leader David Hodge saying he struck a deal with the government before scrapping a 15% council tax hike was obtained by the BBC.
On the recording, Mr Hodge said he had written government assurances and recordings of talks.
But a government spokesman said "there was no special deal".
Go to next video: PM pressed on Surrey council tax deal