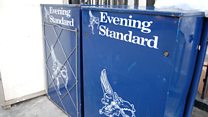 Video
George Osborne will be a 'sensible' newspaper editor
Former Chancellor George Osborne is to become editor of the London Evening Standard newspaper, in a surprise move that has angered Labour MPs.
The Tory MP said he was "thrilled" to succeed Sarah Sands, who is leaving to edit the BBC's Today programme.
Lady Wheatcroft, the former editor of the Sunday Telegraph and editor in chief of the Wall Street Journal Europe, told Radio 4's World at One it was an "interesting appointment".
She said: "I think George Osborne will be very sensible in running the paper."
Go to next video: Osborne: 'I will speak for Londoners'