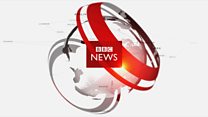 Video
Labour row over Trident
Shadow foreign secretary Emily Thornberry was "wrong" to suggest Labour might drop its commitment to the UK's nuclear deterrent, the party's defence secretary has said.
Nia Griffith told BBC Newsnight it was "already settled" that Trident would remain if the party came into power.
This video has been optimised for mobile viewing on the BBC News app. The BBC News app is available from the Apple App Store for iPhone and Google Play Store for Android.