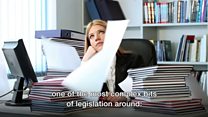 Video
Will the EU Withdrawal Bill make it to the next stage?
A lot of the shops have got their Christmas displays up already, inducing thoughts of "do I have to take part in the office secret Santa AGAIN".
But spare a thought for the government which has only got eight shopping days left to get MPs onside with one of the most complex bits of legislation around: the EU Withdrawal Bill.
Video produced by Tom Bateman and Esther Webber.