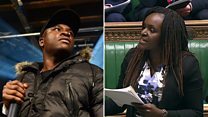 Video
Labour MP Fiona Onasanya quotes Big Shaq's Man's Not Hot in Commons
Big Shaq has made it to the House of Commons, after a Labour MP quoted lyrics from hit song Man's Not Hot during a debate on the Budget.
"This is not as simple as saying, 2 plus 2 equals 4, minus 3 equals 1 - quick maths," said Fiona Onasanya as she made a point about education cuts.
The MP thought no one had noticed - but Twitter users soon spotted the reference, which came in the House of Commons on Tuesday afternoon.
Big Shaq - the alter ego of comedian Michael Dappah - is currently at number six in the official Radio 1 charts.