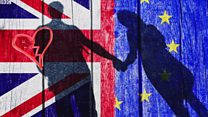 Video
Bamboozled by Brexit?
As talks appear to have broken down, we get back to basics, and meet the people affected by the politics.
Brexit podcast: What's going on?
Video produced by: Sofia Bettiza, Adam Fleming and Suzanne Vanhooymissen
Go to next video: Why would the UK pay to leave the EU?