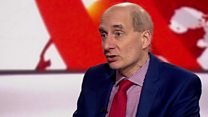 Video
Lord Adonis denies being pushed out of government role
Lord Adonis has dismissed claims he left his government role before he was pushed.
The ex-Labour minister announced he was quitting as the government's infrastructure adviser, describing Brexit as a "populist and nationalist spasm".
But a government source said: "He's been moving closer towards the exit door with each new onslaught he makes against Brexit."