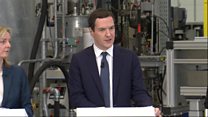 Video
George Osborne: 'Britain poorer outside the EU'
Britain would be "permanently poorer" outside the European Union, Chancellor George Osborne has warned ahead of the in-out referendum on 23 June.
A Treasury analysis suggests an EU exit could see the UK economy 6% smaller than it would otherwise be by 2030.
In a speech in Bristol, Mr Osborne said the report was a "serious" and "sober" assessment of the cost of leaving the EU.
But Leave campaigners dismissed the forecasts as "absurd".
Go to next video: Treasury 2030 forecast 'completely worthless'